That is, Benefit's
Confessions of a Concealaholic
. It usually runs $36, but I got one that was "imperfect" for $21. It was a pretty sweet deal considering all that is included:
That Gal (0.25 fl.oz)
Erase Paste in 02 (0.11 oz)
Boi-ing in 01 AND 02 (0.04 oz each) -- you get both shades to blend to match your skin tone
Lemon Aid (0.03 oz)
Eye Bright (0.03 oz)
Plus TWO double-ended concealer brushes in different sizes
As with all Benefit products, the packaging is super-cute.
It even comes with a little booklet to show you how to apply all the products.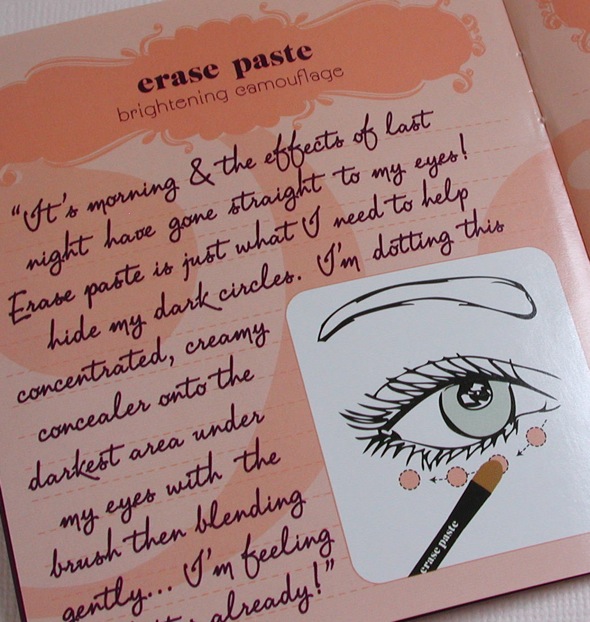 I've been dying to try the That Gal (highlighting facial primer) and Erase Paste (brightening camouflage for eyes and face) so I was thrilled to get a sample of them.
But, what I was really after were the Boi-ing (high-strength concealer) and Eye Bright (as the name suggests, this is an eye-brightener, otherwise found in pencil form). And of course, the two (really, four) brushes. (ps-- you can see the imperfections in my packaging around the Lemon Aid and Eye Bright)
I love that there is a separate brush that is labeled for each product so I don't have to worry about cross-contamination.
My favorite product so far is the
Boi-ing.
It's one of the best concealers I've ever tried. The 01 blends perfectly with my skin and completely covered both old acne scars and new blemishes. It also lasted all day, which is great (and highly unusual). Love it!
I tried the
Lemon Aid
this morning specifically with some eyeshadow that I knew creased and faded throughout the day. It
definitely
made a difference.
All in all, I'm beyond pleased with this purchase. It was totally worth the money (even if I had bought it at the $36 regular price), and I'd highly recommend it!