Happy Friday, everyone! It's been a jam-packed week for me, and today will be no exception. So, I am definitely looking forward to a little R&R this weekend!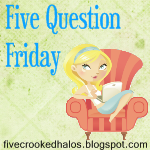 1. Where did you meet your spouse and did you instantly know it was love?
Technically, we haven't met yet. BUT the moment we meet will be magical, and he'll know instantly that it's love (I, of course, already know.)
Hello, Handsome. :)
2. What is your favorite room in your house?
My living room. It's where my big TV is and my comfy sectional sofa-- perfect for reading, napping, watching TV. I love hanging out in there.

3. Can you wiggle your ears?
I can wiggle my left ear. Weird, right?

4. What is your evening ritual?
I try to head to my bedroom to get ready around 10. I wash my face, apply all my skincare products, brush my teeth, pee (tmi?), and hop in the bed. Then, I have my quiet time and finally, I watch TV or read a book until I fall asleep.

5. How many hours of sleep do you need to function?
A full eight. Sometimes I can manage on seven, but less than that, and I'm really struggling the next day.