This week, Brad and the gang (not to be confused with
Kool and the Gang
) heads to Vegas. Brad is beyond excited about being in Vegas to "try to figure out" his feelings for the women. Because Sin City is known as a place for deep self-reflection and soul searching.
Brad drops the ladies off at the most gorgeous suite at Aria. It's even better than the Bachelorette house in LA. He shows them around the place before leaving the first date card and scurrying away. Shawntel gets the one on one.
"Let's end tonight with a bang."
Um, inappropriate double ententre much? Whatevs. Brad picks up Shawntel and takes her where every teenage girl wants to go on a date-- the mall. (Who among us didn't go on dates to the mall in junior high?) Brad sounds pretty proud of himself for "arranging" this date-- "I think it's every single woman's dream to be able to go from store to store and pick out whatever she wants." As much as I'd love to be the superior person and find this date totally patronizing and
hooker-ish
, I really would want this date. A no-limit shopping spree on the tab of a major television network?? Yes please. Having to go on a few dates with a lame guy would be totally worth that kind of swag.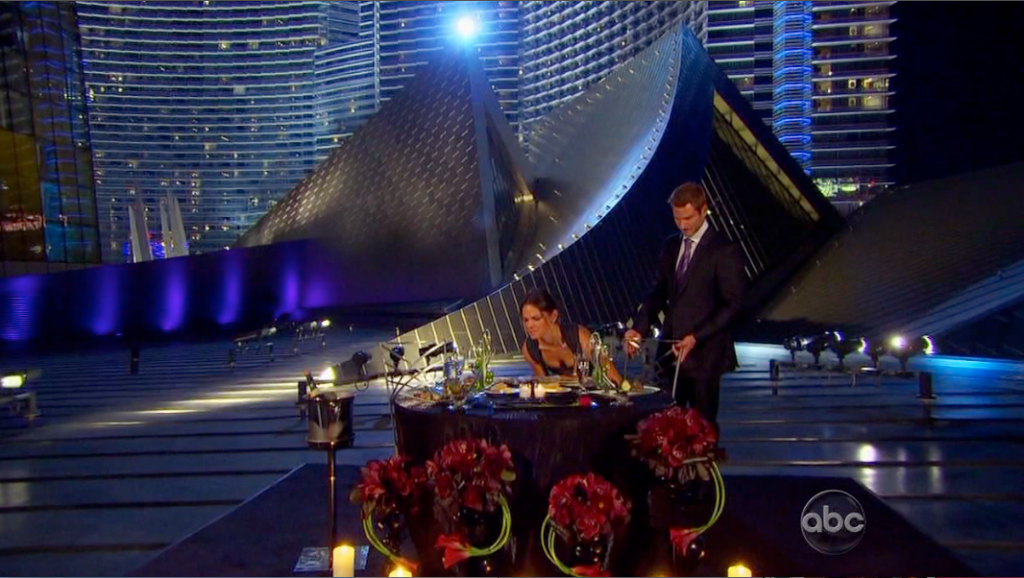 Shawntel comes home to
rub her loot in the other girls' faces
change into a beautiful dress for Date Part II. She estimates her haul to be "around $5000 each bag" with at least a dozen bags and passes around the goodies for all to see. Meanwhile, Crazy Eyes imagines various ways to kill Shawntel. Brad comes to pick her up for Date Part II-- dinner on the roof, where she tells him all about her "profession and passion," being a funeral director. Brad tries to appear interested, prompting some inappropriate dinner discussion of "vein drain," "orifices," and ear reconstruction. Please tell me there was a smoother transition to the discussion of her cross-eyed cat, Peaches, than we saw. And, hallelujah for fireworks to make the weird date talk stop!! Shawntel gets a rose. (For the record, this is the first date of this season that has not had any water activities.)
"
Let's go speed dating."
Group date time for all the girls except the Ashleys (and Shawntel, duh). The "ladies" head to Las Vegas Motor Speedway. Crazy Eyes gets an early start with the insane talk, "I am fun, hot, and you should see me in a race car."
I still cannot believe that the ABC producers put Emily on the NASCAR date-- it's nothing short of absolutely rude and disrespectful. She hangs in there like a champ, drives around the race track, and they all act like she has this huge epiphany-- as if driving around the track that was the site of her fiance's death has finally brought her some peace and closure. "While I'm driving, I'm not thinking about going the fastest -- I'm just driving around thinking the first few laps are for Ricky, and the last lap is for me." She's one classy girl.
Brad has to spend quite a bit of time during the evening dealing with Emily, both at the track and at the pool afterwards (welcome back, bikinis!). He's understandably a bit nervous about trying to fill Ricky Hendrick's shoes, given that Ricky was her only love and Brad has has more than one. Emily responds with the line of the night-- "Well, you're a little bit older than me, my dear." Oh hello, elephant in the room.
Brad's dedicated attention to Emily does NOT go over well with the others (especially after he "planned" a special picnic for her during the last rose ceremony). Alli gets right to the point-- "Just because somebody comes in with the worst story, it means they get the most attention?" Oh Alli, didn't anyone ever tell you that bitterness is not attractive?
It's awkward time again on the group date when Brad joins the collective group of "ladies." Crazy Eyes "rescues" him from the women, saying "Brad is a man baby-sitting a bunch of girls." While true, this is definitely a pot calling the kettle black situation. No crying for Crazy during her time with Brad. She's too busy sexually assaulting him. Much to the chagrin of the "ladies," Emily gets the hard-earned rose.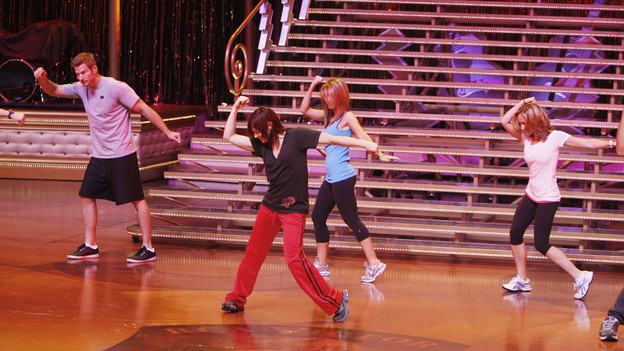 "Come swing with the king. Two girls, one rose-- One stays, one goes."
It's survival of the fittest time for the Ashleys (Sweet Ashley vs. Dentist Ashley). They head to Cirque du Soleil's
Viva Elvis.
Sweet Ashley's dress is beautiful (sadly, I can't find a picture). But, she starts off with a horrible attitude, feeling insecure and lacking-- "I feel like I'm always having to convince someone to be with me." The date is pretty anti-climactic, and Brad ultimately picks Dentist Ashley probably because she wasn't a total stick in the mud all night. Sweet Ashley cries. A lot. (Again, no water activities on the date! And, in Vegas of all places.)
Therapy Session.
This week, Brad's therapist figures he can say these words of wisdom via telephone-- "Keep being real." "Keep being open and you." "Trust yourself." "Let everyone who's experiencing you be inspired by that." No need to fly to LA when they have perfectly good cameras in Austin to video you giving that profound advice.
Rose Ceremony time!
Tonight on
Brad Says the Darndest Things
: "I just don't need drama in my life." Well, then you went on the wrong show, sweetie. Brad has a sit down with Slappy because he's concerned about her drama level from their group date. She has no clue-- "I think we're in a good place." Brad makes a PRICELESS face to this comment, but she continues to be happy living in delusional-ville. Brad finally makes Alli feel special by baking her a cake decorated with green ("Because I was wearing green the first night we met!"). Crazy Eyes molests Brad again, but not to worry-- he loves it.
Ultimately, Princess Marissa and Lisa go home. Slappy escapes by the skin of her teeth. And, of course Crazy Eyes sticks around to wreak more havoc on our psyches. Sad for Lisa, who got more airtime after she was eliminated than she ever got before.
Exotic locations coming. Along with a lot more tears, apparently. Only a few more weeks of this "journey." Let me know what you thought!
ps-- Did y'all see the commercial with Anne Hathaway and James Franco for the Oscars? The red blanket is my favorite. :)