I don't know about y'all, but I'm so glad it's Friday. Only a few more hours, 'til I'm home finishing The Lincoln Lawyer (which is such an amazing book) and watching the NCAA tournament. Last night was all kinds of basketball amazing-ness. Florida and Butler won and Duke lost. It really doesn't get much better than that.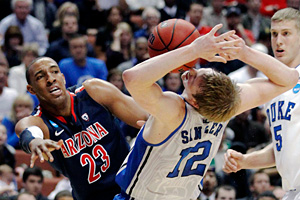 (This is possibly the greatest photo I've ever seen.)
I'm a little bummed that Florida and Butler will be playing each other in the next round. I'm gonna have to go with my Gators even though it means losing this cute face.
I'll be sad to see you go, Brad.
Oh, well. As long as Carolina is still around, I'm good. Let's hope they still will be after tonight!
I'll be keeping y'all posted on all the bball happenings this weekend on
twitter
! Let me know if you're watching too, and we can chat!