This has been such a long week, so I am beyond excited that the weekend is here! I got a sinus infection early in the week and have been coughing non-stop. Toss in the fact that Donny (yes "the boy" has a name...) left for Africa for almost three weeks, and it has equaled a not very great week for me. BUT, my meds are finally starting to kick in, and I got a surprise phone call from Uganda last night. :) So, I'm feeling better today.
Plus, everyone at my office has been so great about helping me out while I've been sick. They basically made me leave and go home to bed twice this week. Sometimes I get so frustrated with my office, but weeks like this make me realize that it's not so bad.
In other news, today is my dad's birthday.
Happy Birthday, Dad!!
Tonight, we're actually all going to be able to get together and celebrate.
Also tonight is Dustin Ackley's first MLB start for the Seattle Mariners! For those of you non-crazy UNC fans like me, Ackley played baseball in Chapel Hill and was the 2nd draft pick in 2009. His major league debut has been anticipated all this season and will finally take place tonight! So excited.
Speaking of UNC baseball, tomorrow begins the first round of the College World Series, and my Heels play in the afternoon. Then the Florida Gators and Texas Longhorns play in the evening.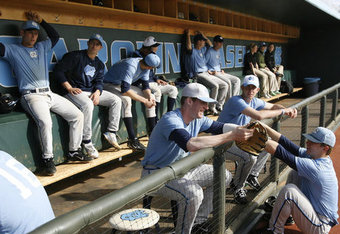 In case you haven't picked up on it yet, there will be lots of baseball this weekend. :) And catching up on sleep. Baseball and sleep-- my perfect weekend.
Hope y'all have a great weekend too!