The best part about fall cooking/baking is all the recipes using pumpkin!! My friend Sarah made these
Pumpkin Spice Latte Cupcakes
for us the other week, and they were AMAZING.
This
pumpkin fluff
looks heavenly. Not to mention pretty simple with only four ingredients: cool whip, vanilla pudding mix, a can of pumpkin, and pumpkin pie spice. Yum!!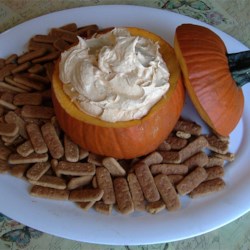 Oh, and let's talk about
these babies
for a sec. Pumpkin pie IN A CUPCAKE. Yes, 'tis true. Could there be anything better than pumpkin pie in a cupcake?? (Well, for me, if it doesn't have cream cheese icing like
this recipe
calls for. But that's an easy substitution....)
Now I've just made myself crave pumpkin. Guess I'll have to hit the grocery store on the way home from work!