Intro to Ben—wears plaid, drinks wine, kayaks, spends too much time in the sun, drives a tractor, plays the piano outdoors, and can pack for eight weeks in a single suitcase. Blah.
Now onto this seasons nutcases! It's always interesting to see the women that ABC features up front:
1. Lindzi. Yes, that is actually how you spell her name. (Side note—one of my pet peeves is when people spell normal names in a really weird way. Sometimes it almost impossible to recognize the name when you see it.) She loves horses. And she's been dumped via lame text. NEXT!
2. Amber. She's "outdoorsy." If by outdoorsy, you mean a camo-wearing, shotgun-hunting, cow ball-eating redneck. NEXT!
3.
Kacie
. She was in love with Ben since the last Bachelor because he's "hot." Her grandparents had a life-long love. Kinda cheesy, but not altogether horrible. NEXT!
4. Courtney. And we have our first "I'm not concerned about the other girls… Girls are always competitive with me… Girls are always intimidated by me..." My money is on this girl being the bitch drama queen. Oh, and she requires a 2 carat ring. NEXT!
5.
Jamie
. A L&D nurse who has gone through a lot in her life. She seems sweet and genuine and has obviously has worked hard to get where she is. NEXT!
6. Lyndsie (what is with the weird "Lindsays"??). Oh, I'm having Vienna flashbacks… She's the daughter of a diplomat. And she has very, um, unique mannerisms and talks super fast. NEXT!
7. Jenna. A bra-less Carrie Bradshaw wanna-be. 'Nuff said. NEXT!
8.
Shawn
. And we have our first mom contestant. NEXT!
9. Nicki. She obviously is Texan because she was sitting on a Texas cow. She got married young and is now divorced. Don't worry though—she's not letting that stop her from jumping way ahead in THIS relationship—already planning where she and Ben are gonna spend Christmases, either in Sonoma or Texas with mom. NEXT!
I notice that there are a lot of blondes among our bachelorettes, so let's do a count while they get out of the limo, shall we?
Blonde—Rachel, Amber, Emily, Samantha, Casey, Amber, Holly, Shira, Brittney, Lyndsie, Anna, Monica, Jaclyn, Shawn, Lindzi
Brunette—Erika, Elyse, Jenna, Courtney, Jamie, Blakeley, Nicki, Dianna, Kasie
Redhead— Jennifer
Looks like I was right! 15 blondes, 9 brunettes, and one lone redhead.
Some of the, um, highlights of the introductions:
Erika— Law student who leads with "You are guilty of being sexy."
Emily— A germaphobe who sanitizes Ben and herself before going in for the first kiss.
Samantha— Wears her pageant sash all night long.
Blakeley— A stripper VIP Cocktail Waitress
Anna— Walks by Ben without saying a word. Genius or stupid? I guess time will tell…
Lindzi— Rides up on a horse. Ben loves it—"They saved the best for last, I suppose." Not surprised at all that she gets the first impression rose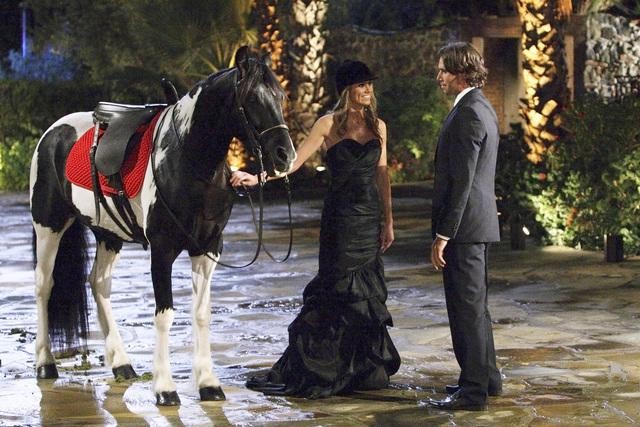 Random Night One Observations:
Didn't take long for the cattiness to begin-- before all 25 women were even in the house.
Grandma is way too involved with granddaughter's "relationship" with Ben.
If ever there was a time to make sure that you have straightened ALL pieces of your hair, not just the front, it is the night you meet the Bachelor.
Some of these women need bras… or larger dresses… or both.
Women aren't afraid to break out their bad poetry/rapping.
Never fails-- Bachelors love bitchy women. Or maybe it's the Bachelor producers. Or both.
Jenna is way, WAY too concerned with the other women. Even if she does make it a few weeks, I foresee a complete breakdown.
When women say "I don't want to create drama." That's always a sign that they ARE drama…
If you cry on Night One, you're going to have trouble.
First season with lesbian contestant(s)?
"Why does she hate me?" "Because that's what girls do." Truer words have never been spoken.
I wonder if Ben ever learned Anna's name before he sent her on her merry way…
Rose Recipients
Jamie
Rachel
Blakeley
Emily
Kasie
Casey
Brittney
Erika
Shawn
Nicki
Jennifer
Elyse
Samantha
Courtney
Jaclyn
Monica
Jenna
Lindzi (first impression)
Losers
Anna
The Baconator
Lyndsie
Amber T.
Dianna
Holly
Shira
Interestingly, six of the seven women not getting a rose were blondes.
Preview for the rest of the season look as dramatic and full of skin and water as always! It's too early for me to pick a fave-- I've learned not to get too attached too soon.
Any front runners that y'all liked though? **No Spoilers Please!!**