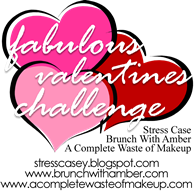 Today's topic for the Fab V-Day Challenge hosted by Casey, Amber, and Neely is "Loved This Date-- Best Date Ever."
Due to the long distance, Donny and I have never really ever had a "date" where he comes and picks me up and we go out somewhere. We pick each other up at the airport and then drop off a few days later instead! :) But, one of my favorite days we've had together was during his first trip here in September of last year.
First stop that morning was Blowing Rock, NC (which is one of my fave places in NC). The Blowing Rock park itself is cute (a little small) but has amazing views and is great for picture-taking. Then, we went into the town, walked around in all the cute little shops, and had lunch. After BR, we went to Grandfather Mountain where I conquered my fear of the Mile High Bridge (
The Bachelor
producers would be proud).
I almost had a panic attack driving down the mountain, but I survived. After we got back to where I live, we had dinner with some of my friends, who were excited to meet Donny.
We spent the whole day laughing and talking and just being relaxed and fun. Loved it. :)