It's Friday-- FINALLY! This week has been my first five-day work week in a while, and it definitely felt super long. Yeah, that qualifies for a #firstworldpains.
Since it's Friday, that means it's time for one of my fave linkups-- Boob Tube Babble with
Neely
and
Ashley
!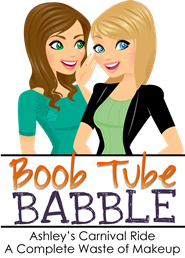 Y'all, I have never seen Rob Lowe so creepy as he was in Drew Peterson: Untouchable. Even with the weird mustache and constant squinting, his portrayal of Drew Peterson was phenomenal. Of course, I always wonder how much of the events are completely made up-- obviously his wife is gone and can't tell her stories, and he's not spilling. The scene at her sister's funeral where he accused her of having an affair with her brother-in-law was particularly disturbing.
Anybody else watch? Thoughts?