This season of The Bachelor has come to an end.
Ben has picked Courtney, much to everyone's dismay but no one's surprise.
The finale wasn't very dramatic at all. The only scene that stuck out with me was Courtney's visit with Ben's family. It was almost scripted the way they "pre-judged" her then once they met her discovered how "delightful" she is and gave Ben their blessing about her. Oh please.
Then it was time for the "most dramatic" After the Final Rose ever. Turns out that Ben basically dropped Courtney like a hot potato when he started watching the show. And that was when I started my transition to Team Courtney.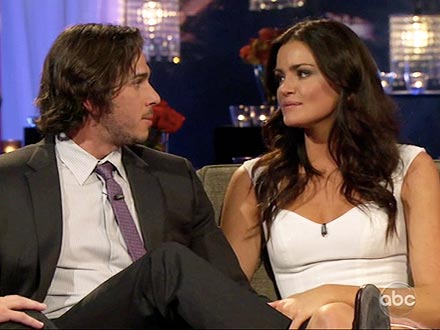 What Ben basically said was that he saw the behavior that Courtney had already apologized for and he didn't know if he could be with her. After he promised to "love her forever." I don't know or care if her apology to him a few weeks ago was sincere. The point is that HE believed that it was. And after all that, he still decided to walk away. If he's that quick to pick up and run, I'd be terrified that at the first sign of REAL trouble, he'd do it again. That's not a pattern I'd want to accept if I was Courtney.
I genuinely hope that they have a long, happy life together. But, I guess time will tell.