... And good riddance! Y'all, I do not like summer. Since I'm not in school anymore, the only thing summer means to me is that it's hot. And I do NOT do hot weather. (Hence, why I'm not moving to Texas. Just kidding! Sorta...)
To celebrate the end of summer, I'm linking up with Ashley and Neely for Sunday Social!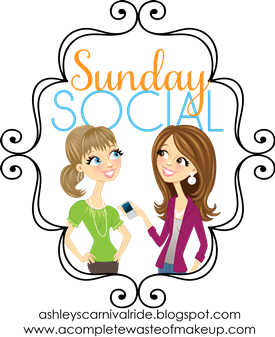 1.
What was your favorite trip/vacation/activity this summer?
My
trip to Dallas for Donny's birthday
the first weekend of August! I surprised him (kind of...) by showing up a day earlier than he thought I would. We hung out with friends, had Sunday brunch at Texas de Brazil, had our
wedding shower
, and just enjoyed being together.
A close second was my trip to DC with Emily. It was a totally impromptu decision to go, and we had an amazing time.
2. What was your favorite outfit look of the summer/clothing item? This summer, I've made a concerted effort to try to branch out into bright colors. And I've really enjoyed them.
My favorite item though was the dress I wore to our wedding shower. I love it!

3. What is one thing you wish you had gotten to do this summer? Go to the beach. I usually go at least once every summer, but I didn't this year. Emily and I went to DC instead, and I went to Dallas. BUT, I am going to the beach at the end of September for my bachelorette weekend!

4. What was your favorite song of the summer? Hmm... I don't really have one. I listened to NEEDTOBREATHE a lot. And Adele. Just this past week, I've really gotten into Ben Rector, who I love.


5. What was your favorite movie/tv show of the summer? Bachelor Pad!! Y'all this is a crapstorm of crazy, and I love it. I don't know why though because I spend a significant portion of the show wanting to slap people... But I can't stop watching. I'm pretty sad that Michael Stagliano is gone-- there's no one left to do the hilarious commentary of the challenges.
Bye bye, summer!!