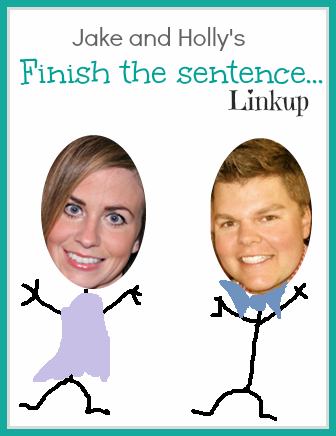 1. If calories didn't count, I would eat...
Everything in sight probably. Although at the top of my list would be Gigi's cupcakes, Five Guys' fries, and Sour Cream and Onion chips.
2. On my Prom night....
I went but was home early. I went to a private Christian school, so we had a "Junior/Senior Banquet" instead of a prom. There was a (chaperoned) after party so we could dance, but it wasn't fun. So we went to Chick-fil-A for dessert then home.
3. When I go to the store, I always buy...
apples. I eat them all the time. My new favorites are the pinata apples. LOVE.
4. Family functions typically...
are a blast. We eat, we hang out, we laugh. It's delightful.
5. I think my blog readers... Are awesome. I love that I have made so many friends through this little blog! :)
6. I'd much rather be....
Here with a book and a pineapple daiquiri.
7. I have an obsession with....
Friends. And crime novels. And McDonald's sweet tea!
8. My work friends....
make my work days so much better. I'm so glad I work with some super fun people that make me laugh.
9. When I created my Facebook account....
I was a senior in college. I remember waiting for it to come to my school (because it was only open to certain colleges and you had to have an email address for those schools to join, if you'll remember). When it finally opened up to my school, I remember being so excited even though we didn't even really know what it was! Haha.
10. My least favorite word is...
Slang words that are shortened versions of real words-- for example "totes" and "obvi." (Although interestingly enough, I use "obvs" in text conversation. For some reason it doesn't annoy me. I'm an enigma...)
11. I really don't remember...
where anything is. I put stuff places and constantly forget where I put them. I also forget things that I need to do unless I write them down or have Donny remind me. Out of sight, out of mind...

12. Justin Bieber... creeps me out. He's like 12 years old, yet every picture of him recently is of his underwear hanging out of his pants (since they're four sizes too big therefore require him to manually hold them up). Dude, you make plenty of money. Surely you can find pants to fit...
Join in and link up with Holly here!